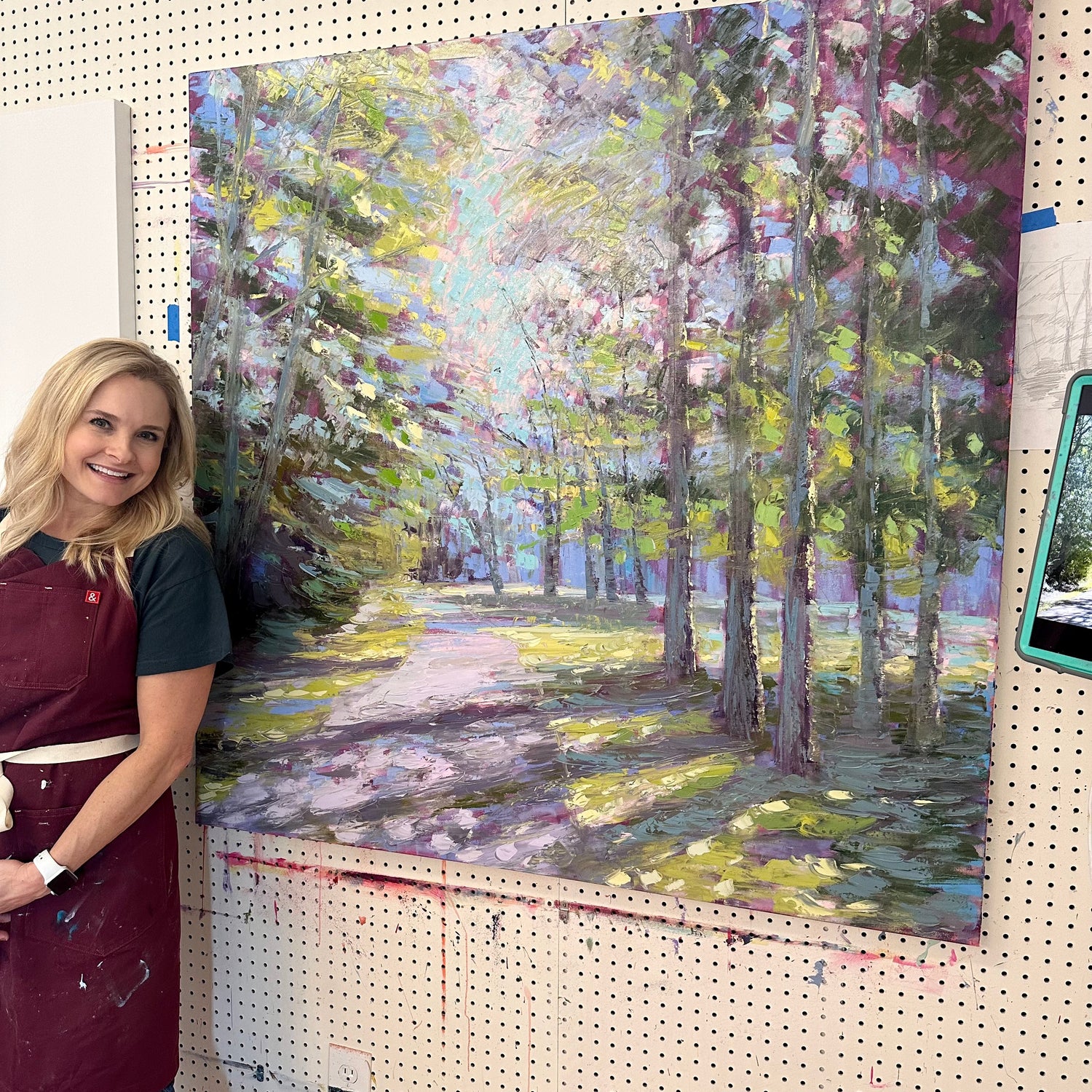 Christmas Commissions!
What better way to make a memory this Christmas than the gift of art!  Reserve your spot today for a Peyton painting for Christmas!  Space is very limited!  This is a first come, first serve basis, and she will be SOLD OUT when she has reached my limit for the season.  
Peyton uses photographs to paint on canvas.  So if you have a favorite sunset, lake or beach scene, hunting camp, or trail scene she would love to know and explore ideas with you for the perfect piece!  Also, if you have a specific color palette in mind, she would can accommodate that too!  And if you don't have specific colors or a photograph in mind, she would be happy to work with you, and show you some she has done in the past.  
Once the commission has been decided upon, a 50% deposit is due and the painting will be completed by Dec. 15.  All sizes include the frame so it's ready to hang for Christmas!  If shipping is needed, it will be calculated once it's finished.
Reserve yours today by filling out the contact form below!
FAQs
What's the difference between stretched canvas, rolled canvas, and Giclee Print on Fine Art Paper?

To put it simply, stretched canvas is as close to the original as you can get and more costly. The rolled canvas comes to you rolled up and you'll have to take it to a frame shop to get it stretched over canvas! The fine art paper is the least costly of the options and will need to be framed under glass. All options are quality options; it just depends on what you're looking for in your space and what your budget is!
I would like to purchase a commission. What should I do?

You'll start by filling out the contact form with as much detail as you can! Information like the space it's going in, the colors you want to use, the size you're looking for, and what specific landscape you want the painting to be. After we finalize details together, you'll pay a 50% deposit and I'll get started! 

The painting is usually done after 6 weeks. Once it's finished, we'll discuss what frame you want to put it in. Once it's dry, framed, and paid for, I deliver, coordinate a local pickup, or ship it to you!
What all goes into the price of a painting?

There's a LOT that goes into price consideration.

- Years of training and experience

- Quality of the oil paints, varnish, and canvas I use

- Time it takes me to paint and deliver it

- Behind-the-scenes business upkeep

While some artists price on a case-by-case basis, I mainly price by size! The price does not usually change past sizing.
I just ordered a print + can pick it up locally. How do I set up my pickup order?

We can meet or you can meet me at my studio. When you check out, make sure that you click "local pickup" and I'll coordinate it from there!
I have a specific color palette in mind for my painting. Can you accommodate for that?

I love it either way! I always want to make sure you're getting exactly what you want, so if you have a specific color palette in mind, I would love to work with it!

If you don't have specific colors in mind, I am also more than happy to show you some examples of color palettes in my work that I believe will work well in your space!
How heavy is a painting?

Not as heavy as you would think! After all the layers of paint, they are just a fraction heavier than the canvas itself. Most of the time, they are just a little bulkier and take some extra space when delivering!
How much should I budget for a commissioned piece?

I price based on size, so it depends on how big you want your painting! If you fill out my contact page, I am more than willing to send you my pricing guide. Smaller paintings can range from $350 and larger up to $4,500.
How long does it take for a commission to be finished?

From your inquiry to the painting being in your home is about a 2 month process. By the time we get details finalized, it takes me about 6 weeks to paint it and varnish it.
Do you do oil paintings only?

Yes, I only do oil paintings! If you're looking for another style, I am more than happy to point you in the direction of an artist that specializes in your ideal painting style!
Can you paint people in your paintings?

My style is impressionistic contemporary landscapes, so I do not paint people. Listed below are some talented artists in the area that do oil paintings of people!